P.O. Box 154 Blue Jay, CA. 92317
O# (949) 208 – 2979 or (909) 689 – 6286
Talk live if you have any questions (9am – 5pm – Pacific Time)
E-MAIL: mboardway@mba-architectural.com
URL: www.mba-architectural.com
Skype Handle: MICHAELBOARDWAY – MBA
Theme Parks, Spiritual Centers, Churches, …



Architectural Exams & Professional Services


Seminars, Workshops, Tele-Seminars, Tutoring,
Materials, Consultation, ….
Architectural Energy Assessments
Walk through assessments & recommendations for a savings for up to a
1,000,000.00 or more per year (Theme Parks, School Campus, Large Corporations)
(Professor Boardway help put together the California Energy Commission in 1978)
(Removing the Physical & Mental Blocks; Exams, Profession, …)
=========
==============
==========
NEW ENERGIES IN ARCHITECTURE
VIBRATIONAL GREEN ARCHITECTURE (For the Young & Older)
FEATURING MBA ARCHITECTURAL ON VOICE AMERICA – TALK RADIO
STARTING APRIL 9TH, 2014 – 2PM (PST)
=========
==============
==========
More than 35 years of experience!!

ARCHITECTURAL – SEMINARS(In-Person, Tele-Classes, Recorded), WORKSHOPS, TUTORING, COACHING, MATERIALS

TYPICAL WORKSHOPS (5 – 10 Attendees – Only)
see videos below(Because of Professor Boardway's dramatic presentation students absorption is higher)
MBA EDUCATIONAL HORIZONS
ARCHITECTURAL (Exam – Professional Subjects)
Tutoring / Coaching: http://mba-architectural.com/paypaltutorservices.html
Professional / Exam Consultation: http://mba-architectural.com/consultationdonations.html
Phone – Skype or In-Person Tutoring (min 2 hrs)
(call for rates & schedule)

Need direction on starting an office?
Need direction on Architectural Services through the Project Phases?
Need help with challenging Clients, Agencies, General Contrators, CM's, Consultants, …?
Communication, Documentation, Files, Contracts, Project Strategy
Keeping Projects on Budget & Schedule
Responsibilities and Procedures required of all Parties.
Need help with your Exams
Tutoring/Coaching on all Exam Subjects
==================================
==============================================
==================================
INCENTIVE REFERRALS


($70 Value)

Any individual that refers another individual who registers for any of MBA's;
Seminars, Workshops or Tutoring; will receive free
(1) Tele-Seminar (Recorded) of the ARE or CSE Exam subject
=================================
=========================================
=================================
"MBA Architectural" an Architectural Firm located in Southern California, is a unique Architectural Business that offers Architectural Services & Architectural Seminars (see links for the ARE, CSE Exams & Professional Seminars). Principal and founder, Professor Michael P. Boardway has also coined the phrase "VIBRATIONAL – GREEN ARCHITECTURE", which means that the building occupants will increase their vibration and frequency to a higher level of evolution with (Colors, Sound & Specific Materials throughout the building using crystals, oils, etc…). For more information please click or copy & paste the following link;
Also "Green/Sustainability" means efficient design with least dependability on outsourcing (off the Grid), for energy use. MBA also designs Greenhouses for individuals wishing to grow their own fruits and vegetables. In addition, MBA also does Architectural Seminars throughout the United States and in other countries for the NCARB-ARE License Exam, Calif. Supplemental Exam (CSE) and Professional Subjects. In these sessions the attendees can increase their vibrational frequency and focus to pass the exams and or allow themselves to receive a health way of practicing Architecture, (not attracting dysfunctional Clients, making fewer mistakes, etc…). All services are offered with a high degree of quality. MBA has been in business and has offered Architectural Services as well as Architectural Seminars since 1987.
MBA Architectural has two separate divisions. The first is named "Michael Boardway & Associates"(MBA) – Architectural Firm located in Southern California, and the second is "MBA Educational Horizons". The first division is an Architectural Company which solely offers Architectural Services, whereas the second division is a company that offers Architectural Exam Seminars in the United States, Puerto Rico, & Canada regarding the ARE-NCARB Exam, California Supplemental Exam as well as Professional Subjects. All services by MBA are tailored to the Clients/Business needs and the Seminar Participants. Our goal is to offer the highest level of quality in Architecture as well as in Lectures that we produce.
MBA Architectural is always open for questions regarding the Architectural Services and Architectural Seminars we offer, as well as any suggestions for improvement. Please contact us if you have any questions or comments. Thank You.
Do you believe in Fairies? I do! I do! I do! See photo above. See enlarged photo.in addition to the orbs.. This photo was taken by Tristan Boardway my son on 6/14/13 over Lake Arrowhead, CA.
=============
========================
==============
PEACE & CALM SYMBOL
==================
===========================
===================
BRINGERS OF THE DAWN (16 PARTS)
http://www.youtube.com/watch?v=ccOEflrvjWY&list=PLDFC9B2EE82BAFB08
=============
========================
==============
EARTH GROUNDING
http://www.earthing.com/default.asp
=============
========================
==============
MISC. ARCHITECTURAL FACTS
http://fractalenlightenment.com/15668/fractals/digging-deeper-into-the-golden-ratio
=============
========================
==============
THE RAINBOW CONNECTION (Kermit the Frog)
https://search.yahoo.com/search;_ylt=AgFe0PORYE_TEw3lZcMc6Z.bvZx4?fr=yfp-t-660-s&toggle=1&cop=mss&ei=UTF-8&p=rainbow%20connection%20kermit%20the%20frog%20lyrics
=============
========================
==============
LAUREL & HARDY DANCE TO SANTANA
http://www.youtube.com/watch?v=jkZGg0qNdCc&sns=em#aid=P-K52afPrzo
=============
========================
==============
THE THREE STOOGES DANCE TO WIPE OUT
https://www.youtube.com/watch?v=OfzGsnpGR8w
=============
========================
==============
THE ADDAMS FAMILY DANCE TO THE RAMONES
https://www.youtube.com/watch?v=vA9A5WnT0rM
=============
========================
==============
THE 3 STOOGES VS. MAMBO NO.5
https://www.youtube.com/watch?v=rPHwVkP5v5E#aid=P-AgUwcie8Y
=============
========================
==============
Radio Show – Saturn 3 Lightflyers – Voice America – World Talk Radio
http://www.voiceamerica.com/show/2326/saturn-3-lightflyers-presents-journey-with-the-new-children-teens-and-adults
==============
=======================
==============
Andrew Bartzis & Lance White Interview (20 Parts)
https://www.youtube.com/watch?v=qRLaAVVs0P4
=============
========================
==============
http://jhaines6.wordpress.com/2014/05/01/exclusive-interview-with-veronica-keen-project-ley-line-and-the-truth-about-eire/
=============
========================
==============
THE LIES NASA TOLD US:
http://2012thebigpicture.wordpress.com/2014/04/18/the-lie-nasa-told-and-the-demise-of-the-new-world-order-video/
=============
========================
==============
TESLAS ENERGY DESIGN – Q E G
http://www.fixtheworldproject.net/what-is-the-qeg-.html
http://www.auricmedia.net/wp-content/uploads/2014/05/qeg-user-manual-3-25-14.pdf
=============
========================
==============
JIMMY BUFFETT – TURNING AROUND SONG
(Summer Rental)
https://www.youtube.com/watch?v=qo2O3kgwX_s
=============
========================
==============
Extraterrestrial Races: The Good, The Bad And The Ugly
http://www.in5d.com/et-races-the-good-bad-and-ugly.html
=============
========================
==============
RAINBOW BRIDGE – For Pets
https://rainbowsbridge.com/poem.htm
=============
========================
==============
FREE BIRD SONG by; Lynyrd Skynyrd – 1975
https://search.yahoo.com/search;_ylt=AnmRgasHXF1Bnn9KjsIj2oCbvZx4?p=FREEBIRD+SONG&toggle=1&cop=mss&ei=UTF-8&fr=yfp-t-252&fp=1
https://search.yahoo.com/search;_ylt=AqEzkBeQTU.G9bkAk_OHRCCbvZx4?p=FREE+BIRD+SONG&toggle=1&cop=mss&ei=UTF-8&fr=yfp-t-901&fp=1
=============
========================
==============
80's SONGS
https://www.youtube.com/watch?v=b8ORHVdTxbg&index=1&list=RDb8ORHVdTxbg&spfreload=10
=============
========================
==============
EARTH STRUCTURES
http://thespiritscience.net/2014/06/21/10-reasons-why-earthships-are-fing-awesome/
=============
========================
==============
"BOUGHT" FILM"Free thru 3/15/15
(Vacciniations & Proper Food)
https://boughtmovie.net/free-viewing/thank-you.php?AFFID=NONE&email=mboardway@mba-architectural.com
=============
========================
==============
"ORIGINS – MOVIE"
http://origins.well.org/movie/
=============
========================
==============
"UFO – ET COVER UP"
http://www.siriusdisclosure.com/evidence/bae-documents/
=============
========================
==============
"ORIGINS INTERVIEW WITH DR. ALAN CHRISTIANSON"
http://origins.well.org/deep-dive-bonus-2/?inf_contact_key=c3c29c3d994781763fee7930559d84cfd500fc5144d07c6b903d3d4aefbd4c56
=============
========================
==============
"STONEWALL MARY – BUILD TO FLOW"
http://buildtoflowwithnaturenottoresistit.blogspot.com
=============
========================
==============
"MUSK WIH TESLA TECHNOLOGY"
http://www.businessinsider.com/the-tesla-battery-heralds-the-beginning-of-the-end-for-fossil-fuels-2015-5?utm_content=buffer01e2f&utm_medium=social&utm_source=facebook.com&utm_campaign=buffer
=============
========================
==============
"WHEAT THE NEW POISON" – TRY SPELT

http://www.realfarmacy.com/something-horrible-was-done-to-our-wheat-in-the-60s-that-were-just-realizing-now/
=============
========================
==============
"NEW ENERGIES ON THE PLANET"
Interview with Michael & Janiece Boardway on Blog Talk Radio 5/14/14
http://www.blogtalkradio.com/empoweredthriving/2015/05/14/natural-healing-and-thriving-for-highly-aware-children
=============
========================
==============
"SEAN STONE – BUZZSAW"
http://thelip.tv/show/buzzsaw/
https://www.youtube.com/results?search_query=sean+stone+buzzsaw+2015
=============
========================
==============
"GMO FOOD LIST – 2015"
http://covvha.net/list-of-gmo-foods/
=============
========================
==============
"MARCH AGAINST MONSANTO
=============
========================
==============
"FORCED VACCINATIONS" SB277
More metals in the body so they can wifi control us more? Time to wake up!
What deals have our governments made to who or whatever in the past?
We want our mind, body & soul back now!
When will they start telling us what GMO Foods to eat?
Am I paranoid or am I waking up? Instead of fear lets empower ourselves!
Was Hitler really a plant by England for higher body counts to et's in exchange for technology? The real history?! Did the Bush Administration pay Osama Bin Laden for 911 higher body counts? Are we really just dna collateral for our governments to exchange us for et technology?
OUT FRONT OF STATE CAPITAL – CALIFORNIA AGAINST SB277 6/9/15 – Mandatory Vaccinations
http://right.is/conservative-opinion/2015/07/mandatory-adult-vaccines-coming-to-california-or-go-to-jail-sb792-video-1994.html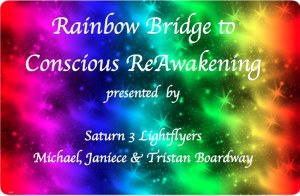 Freedom is our Birthright
by
Janiece L. Boardway, M.A.
On Tuesday, my family and I watched the hearing in Sacramento on the SB277, mandatory vaccinations. We are very grateful to all the people and all of their children who attended and spoke up for the rights and freedoms of everyone. They presented themselves beautifully and eloquently. We are so very sorry that it fell on deaf ears. Those who made up their minds long ago in support of domination, control and manipulation. We know who they have aligned with and they most definitely do not have our highest interests in mind.
As my husband said (and has said many times after meetings, such as this one, he has attended over the years), "it was a done deal even before the meeting was called." And added that it is generally those with the "fattest" bank account who wins. Again, we know who they are. Tristan said "this was a good lesson on how our government does not work for the people." Yes, Tristan, thank you for speaking your Truth as always. And I say "how can we out create the stupidy and instanity of this reality?"
It isn't about being negative. It is about Waking-Up, being Aware and Knowing that we have been dominated and controlled by powers who are much "higher in rank" than their "puppet" elected officials who are doing their dirty work. This is just the beginning of them taking away our freedom if we do not stand in unity demanding our rights for ourselves and our families.
There are some wonderful organizations on FB that we ask you to please check out and see if they are of interest. A few are: Californians Against Mandatory Vaccinations, Our Kids Our Choice, Vaccine Choice Rights Demonstrations (hey, we still have our signs from the March Against Monsanto and are ready, willing and able to have our voices heard), Take Charge – Vaccines, GMO's, and Big Pharma, Recall Sacramento Senator Richard Pan (and everyone else who does not uphold the Constitution, our Rights and Freedom-just saying. Actually demanding!!!).
You may think "well, this is just in CA. or just happening in the US. However, it is just the beginning of seeing how much freedom they can take from us. If it can happen here in the Golden State, it can happen anywhere.
Thank you for reading this and being committed to yourself, your life and the lives of each member of your family.
// END BODY
BEGIN FOOTER //
Our email address:
Follow us on:
Facebook at Saturn3lightflyers
Rainbow Bridge to Conscious ReAwakening
TIME TO WAKE UP BEFORE ITS TOO LATE – AND YOU AND YOUR FAMILY ARE GONE!!!!
Moms (and Dads too) are rising up all around the World and demanding that Mother Earth is a place where Every Living Being and Thing Thrives and they are taking the action to make it so!
We actually were planning on attending the Peaceful Rally in Sacramento in opposition of the SB277 tomorrow however, we became side tracked with adopting two rescue dogs from the shelter just a few days ago. We have chosen to stay at home with our "girls" since to leave them this early would add to the trauma they both have experienced in their short lifetimes.
A very important lesson that Tristan has taught Michael and I, is that working and uniting with each other energetically is extremely powerful and can truly create meaningful and positive changes. We invite everyone who will not be making this trip to No. Cal., to declare with us that we are independent Beings who demand that we forever will have the freedom to choose what works for our bodies, minds and spirits without any outside control, manipulation and force. We stand in this unified field of awareness and consciousness, sending our blessings to all those who are making the trip to Sacramento to express our eternal rights and privileges as the sacred inhabitants of this planet. We know that in this unified field, our freedom and free will is now and forever, honored and upheld.
Thank you, Janiece, Michael & Tristan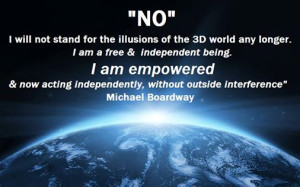 =============
========================
==============
"GROW YOUR OWN FOOD SIMPLY"
=============
========================
==============
"911 TRUTH – DID OUR GOVERNMENT
BLOW UP THE WORLD TRADE CENTERS??"
http://www1.ae911truth.org/en/about-us.html
Also, please consider volunteering ( http://ae911truth.org/volunteer ) and becoming a member ( http://ae911truth.org/membership ) to help us continue pressing forward for a new investigation of 9/11!
You can download your free AE911Truth documents now:
1) Active Thermitic Material Discovered in Dust from the 9/11 World Trade Center Catastrophe
( http://www2.ae911truth.org/downloads/Full_Thermite_paper.pdf )
2) Evidence for the Explosive Demolition of World Trade Center, Building 7 on 9/11
( http://www2.ae911truth.org/downloads/Republic-Magazine16_AE911Truth.pdf )
3) 29 Structural/Civil Engineers Cite Evidence for Controlled Demolition in Destruction of WTC
( http://www2.ae911truth.org/downloads/29_Structural-Civil_Engineers_2009-06-17.pdf )
4) The NIST Analyses: A Close Look at WTC 7
( http://www2.ae911truth.org/downloads/NIST_Analyses_Brookman.pdf )
5) 9/11 Investigator Newspaper
( http://www2.ae911truth.org/downloads/911investigator/911Investigator_1st_ed_v_1.2.pdf )
=============
========================
==============
"ARE THE CLOUDS REALLY
CLOUDS?"
DOG CLOUD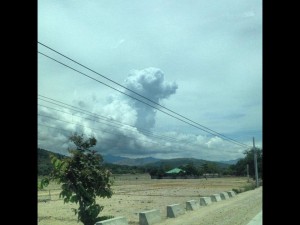 SPACESHIP CLOUD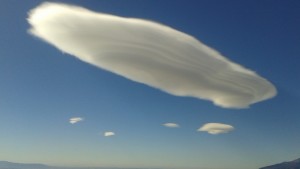 ===========================================================
=============
========================
==============
INTERVIEW WITH RON PAUL (JULY 2015)
http://youtu.be/x7cAj1l9ISo
==========================================================
=============
========================
==============
Goodbye Chemtrails, Hello Blue Skies!
The Do-It-Yourself Kit for Sky Repair
http://www.angelfire.com/ak5/energy21/cloudbuster.htm
===========================================================
=============
========================
==============
Was Dr. Kilde murdered/assassinated because she told the truth?
=============
========================
==============
Radiation on the Brain
=============
========================
==============
=============
========================
==============
=============
========================
==============
PROFESSOR HULSEY'S PRESENTATION ON 9/11 TRUTH
=============
========================
==============
=============
========================
==============
ROBERT DeNiro ON VACCINES – 4/15/16
CALMING THE NERVOUS SYSTEM
=============
========================
==============
ONE MESSAGE by; Tristan Boardway – 4/15/15
=============
========================
==============
ALIEN RACES
http://www.bibliotecapleyades.net/vida_alien/esp_vida_alien_19a.htm
=============
========================
==============
ALL THE PEOPLE THAT ENDED UP DEAD ASSOCIATED WITH BILL CLINTON – 8/16
LOOKING FORWARD TO HILLARY??!!
A number of people connected to Bill Clinton have turned up dead.
James McDougal – Clinton's convicted Whitewater partner died of an
apparent heart attack, while in solitary confinement. He was a key witness
in Ken Starr's investigation. Was James McDougal Murdered In A Federal
Prison To Silence Him?
Ron Brown – Secretary of Commerce and former DNC Chairman. Reported to
have died by impact in a plane crash. A pathologist close to the
investigation reported that there was a hole in the top of Brown's skull
resembling a gunshot wound. At the time of his death Brown was being
investigated, and spoke publicly of his willingness to cut a deal with
prosecutors.
The Botched Ron Brown Investigation
An Interview with AFIP Forensic Photographer Kathleen Janoski
by Wesley Phelan
Vince Foster – Former white House councelor, and colleague of Hillary
Clinton at Little Rock's Rose law firm. Died of a gunshot wound to the
head, ruled a suicide. Snippets From The Vince Foster Death Investigation
Mary Mahoney – A former White House intern was murdered July 1997 at a
Starbucks Coffee Shop in Georgetown. The murder happened just as she was
to go public with her story of sexual harassment in the White House.
Mary C. Mahoney and Eric Butera
Was this just a robbery gone bad? – See: Starbucks Suspect Faces Host of
Charges By Bill Miller Washington Post, August 5, 1999
C. Victor Raiser II – & – Montgomery Raiser: Major players in the Clinton
fund raising organization died in a private plane crash in July 1992.
Paul Tulley – Democratic National Committee Political Director found dead
in a hotel room in Little Rock, September 1992. Described by Clinton as a
"Dear friend and trusted advisor".
Ed Willey – Clinton fund raiser, found dead November 1993 deep in the
woods in Virginia of a gunshot wound to the head. Ruled a suicide. Ed
Willey died on the same day his wife Kathleen Willey claimed Bill Clinton
groped her in the oval office in the White House. Ed Willey was involved
in several Clinton fund raising events.
Jerry Parks – Head of Clinton's gubernatorial security team in Little
Rock. Gunned down in his car at a deserted intersection outside Little
Rock. Park's son said his father was building a dossier on Clinton. He
allegedly threatened to reveal this information. After he died the files
were mysteriously removed from his house.
James Bunch – Died from a gunshot suicide. It was reported that he had a
"Black Book" of people containing names of influential people who visited
prostitutes in Texas and Arkansas.
James Wilson – Was found dead in May 1993 from an aparent hanging suicide.
He was reported to have ties to Whitewater.
Kathy Ferguson – Ex-wife of Arkansas Trooper Danny Ferguson died in May
1994 was found dead in her living roon with a gunshot to her head. It was
ruled a suicide even though there were several packed suitcases, as if she
was going somewhere. Danny Ferguson was a co-defendant along with Bill
Clinton in the Paula Jones lawsuit. Kathy Ferguson was a possible
corroborating witness for Paula Jones.
Bill Shelton – Arkansas state Trooper and fiancee of Kathy Ferguson.
Critical of the suicide ruling of his fiancee, he was found dead in June,
1994 of a gunshot wound also ruled a suicide at the gravesite of his
fiancee.
Gandy Baugh – Attorney for Clinton friend Dan Lassater died by jumping out
a window of a tall building January, 1994. His client was a convicted drug
distributor.
Florence Martin – Accountant – Sub-contractor for the CIA related to the
Barry Seal Mena Airport drug smuggling case. Died of three gunshot wounds.
Suzanne Coleman – Reportedly had an affair with Clinton when he was
Arkansas Attorney General. Died of a gunshot wound to the back of the
head, ruled a suicide. Was pregnant at the time of her death.
Paula Grober – Clinton's speech interpreter for the deaf from 1978 until
her death December 9, 1992. She died in a one car accident.
Danny Casolaro – Investigative reporter. Investigating Mena Airport and
Arkansas Development Finance Authority. He slit his wrists, apparent
suicide in the middle of his investigation.
Paul Wilcher – Attorney investigating corruption at Mena Airport with
Casolaro and the 1980 "October Surprise" was found dead on a toilet June
22, 1993 in his Washington DC apartment. Had delivered a report to Janet
Reno 3 weeks before his death.
Jon Parnell Walker – Whitewater investigator for Resolution Trust Corp.
Jumped to his death from his Arlington, Virginia apartment balcony August
15,1993 Was investigating Morgan Guarantee scandal.
Barbara Wise – Commerce Department staffer. Worked closely with Ron Brown
and John Huang. Cause of death unknown. Died November 29, 1996. Her
bruised nude body was found locked in her office at the Department of
Commerce.
Charles Meissner – Assistant Secretary of Commerce who gave John Huang
special security clearance, died shortly thereafter in a small plane
crash.
Dr. Stanley Heard – Chairman of the National Chiropractic Health Care
Advisory Committee died with his attorney Steve Dickson in a small plane
crash. Dr. Heard, in addition to serving on Clinton's advisory council
personally treated Clinton's mother, stepfather and brother.
Barry Seal – Drug running pilot out of Mena Arkansas, Death was no accident.
Johnny Lawhorn Jr. – Mechanic, found a check made out to Clinton in the
trunk of a car left in his repair shop. Died when his car hit a utility
pole.
Stanley Huggins – Suicide. Investigated Madison Guarantee. His report was
never released.
Hershell Friday – Attorney and Clinton fund raiser died March 1, 1994 when
his plane exploded.
Kevin Ives & Don Henry – Known as "The boys on the track" case. Reports
say the boys may have stumbled upon the Mena arkansas airport drug
operation. Controversal case where initial report of death was due to
falling asleep on railroad track. Later reports claim the 2 boys had been
slain before being placed on the tracks. Many linked to the case died
before their testimony could come before a Grand Jury. see: The Train
Deaths – plus some comments from a mother of one of the boys about the
connection to Bill Clinton..
THE FOLLOWING SEVEN PERSONS HAD INFORMATION ON THE IVES / HENRY CASE:
Keith Coney – Died when his motorcycle slammed into the back of a truck
July, 1988
Keith McMaskle – Died stabbed 113 times, Nov, 1988
Gregory Collins – Died from a gunshot wound January 1989.
Jeff Rhodes – He was shot, mutilated and found burned in a trash dump in
April 1989.
James Milan – Found decapitated. Coroner ruled death due to natural causes.
Jordan Kettleson – Was found shot to death in the front seat of his pickup
truck in June 1990.
Richard Winters – Was a suspect in the Ives / Henry deaths. Was killed in
a set-up robbery July 1989.
THE FOLLOWING CLINTON BODYGUARDS ARE DEAD
Major William S. Barkley Jr.
Captain Scott J. Reynolds
Sgt. Brian Hanley
Sgt. Tim Sabel
Major General William Robertson
Col. William Densberger
Col. Robert Kelly
Spec. Gary Rhodes
Steve Willis
Robert Williams
Conway LeBleu
Todd McKeehan
WHAT DUMBASCRAS DON'T WANT YOU TO KNOW !
The effort to reduce mortgage lending standards was led by the Department
of Housing and Urban Development through the 1994 National Homeownership
Strategy, published at the request of President Clinton. Among other
things, it called for "financing strategies, fueled by the creativity and
resources of the private and public sectors, to help homeowners that lack
cash to buy a home or to make the payments." Once the standards were
relaxed for low-income borrowers, it would seem impossible to deny these
benefits to the prime market. Indeed, bank regulators, who were in charge
of enforcing CRA standards, could hardly disapprove of similar loans made
to better-qualified borrowers.
Sure enough, according to data published by the Joint Center for Housing
Studies of Harvard University, from 2001 through 2006, the share of all
mortgage originations that were made up of conventional mortgages (that
is, the 30-year fixed-rate mortgage that had always been the mainstay of
the U.S. mortgage market) fell from 57.1 percent in 2001 to 33.1 percent
in the fourth quarter of 2006. Correspondingly, sub-prime loans (those
made to borrowers with blemished credit) rose from 7.2 percent to 18.8
percent, and Alt-A loans (those made to speculative buyers or without the
usual underwriting standards) rose from 2.5 percent to 13.9 percent.
Although it is difficult to prove cause and effect, it is highly likely
that the lower lending standards required by the CRA influenced what banks
and other lenders were willing to offer to borrowers in prime markets.
Needless to say, most borrowers would prefer a mortgage with a low down
payment requirement, allowing them to buy a larger home for the same
initial investment.
The problem is summed up succinctly by Stan Liebowitz of the University of
Texas at Dallas:
From the current handwringing, you'd think that the banks came up with the
idea of looser underwriting standards on their own, with regulators just
asleep on the job. In fact, it was the regulators who relaxed these
standards–at the behest of community groups and "progressive" political
forces.… For years, rising house prices hid the default problems since
quick refinances were possible. But now that house prices have stopped
rising, we can clearly see the damage done by relaxed loan standards.
The point here is not that low-income borrowers received mortgage loans
that they could not afford. That is probably true to some extent but
cannot account for the large number of sub-prime and Alt-A loans that
currently pollute the banking system. It was the spreading of these looser
standards to the prime loan market that vastly increased the availability
of credit for mortgages, the speculation in housing, and ultimately the
bubble in housing prices.
IN 1992, AN AFFORDABLE housing mission was added to the charters of Fannie
and Freddie, which–like the CRA–permitted Congress to subsidize LMI
housing without appropriating any funds. A 1997 Urban Institute report
found that local and regional lenders seemed more willing than the GSEs to
serve creditworthy low- to moderate-income and minority applicants. After
this, Fannie and Freddie modified their automated underwriting systems to
accept loans with characteristics that they had previously rejected. This
opened the way for large numbers of nontraditional and sub-prime
mortgages. These did not necessarily come from traditional banks, lending
under the CRA, but from lenders like Countrywide Financial, the nation's
largest sub-prime and nontraditional mortgage lender and a firm that would
become infamous for consistently pushing the envelope on acceptable
underwriting standards.
Fannie and Freddie used their affordable housing mission to avoid
additional regulation by Congress, especially restrictions on the
accumulation of mortgage portfolios (today totaling approximately $1.6
trillion) that accounted for most of their profits. The GSEs argued that
if Congress constrained the size of their mortgage portfolios, they could
not afford to adequately subsidize affordable housing. By 1997, Fannie was
offering a 97 percent loan-to-value mortgage. By 2001, it was offering
mortgages with no down payment at all. By 2007, Fannie and Freddie were
required to show that 55 percent of their mortgage purchases were LMI
loans and, within that goal, 38 percent of all purchases were to come from
underserved areas (usually inner cities) and 25 percent were to be loans
to low-income and very-low-income borrowers. Meeting these goals almost
certainly required Fannie and Freddie to purchase loans with low down
payments and other deficiencies that would mark them as sub-prime or
Alt-A.
The decline in underwriting standards is clear in the financial
disclosures of Fannie and Freddie. From 2005 to 2007, Fannie and Freddie
bought approximately $1 trillion in sub-prime and Alt-A loans. This
amounted to about 40 percent of their mortgage purchases during that
period. Moreover, Freddie purchased an ever-increasing percentage of Alt-A
and sub-prime loans for each year between 2004 and 2007. It is impossible
to forecast the total losses the GSEs will realize from a $1.6 trillion
portfolio of junk loans, but if default rates on these loans continue at
the unprecedented levels they are showing today, the number will be
staggering. The losses could make the $150 billion S&L bailout in the late
1980s and early 1990s look small by comparison.
The GSEs' purchases of sub-prime and Alt-A loans affected the rest of the
market for these mortgages in two ways. First, it increased the
competition for these loans with private-label issuers. Before 2004,
private-label issuers–generally investment and commercial
banks–specialized in subprime and Alt-A loans because GSEs' financial
advantages, especially their access to cheaper financing, enabled them to
box private-label competition out of the conventional market. When the
GSEs decided to ramp up their purchases of sub-prime and Alt-A loans to
fulfill their affordable housing mission, they began to take market share
from the private-label issuers while simultaneously creating greater
demand for sub-prime and Alt-A loans among members of the originator
community.
Second, the increased demand from the GSEs and the competition with
private-label issuers drove up the value of sub-prime and Alt-A mortgages,
reducing the risk premium that had previously suppressed originations. As
a result, many more marginally qualified or unqualified applicants for
mortgages were accepted. From 2003 to late 2006, conventional loans
(including jumbo loans) declined from 78.8 percent to 50.1 percent of all
mortgages, while subprime and Alt-A loans increased from 10.1 percent to
32.7 percent. Because GSE purchases are not included in these numbers, in
the years just before the collapse of home prices began, about half of all
home loans being made in the United States were non-prime loans. Since
these mortgages aggregate more than $2 trillion, this accounts for the
weakness in bank assets that is the principal underlying cause of the
current financial crisis.
In a very real sense, the competition from Fannie and Freddie that began
in late 2004 caused both the GSEs and the private-label issuers to scrape
the bottom of the mortgage barrel. Fannie and Freddie did so in order to
demonstrate to Congress their ability to increase support for affordable
housing. The private-label issuers did so to maintain their market share
against the GSEs' increased demand for sub-prime and Alt-A products. Thus,
the gradual decline in lending standards–beginning with the revised CRA
regulations in 1993 and continuing with the GSEs' attempts to show
Congress that they were meeting their affordable housing mission–came to
dominate mortgage lending in the United States.
FEDERAL HOUSING INIATIVES are not the only culprits in the current
mortgage mess–state-based residential finance laws give homeowners two
free options that contributed substantially to the financial crisis.
First, any homeowner may, without penalty, refinance a mortgage whenever
interest rates fall or home prices rise to a point where there is
significant equity in the home, enabling them to extract any equity that
had accumulated between the original financing transaction and any
subsequent refinancing. The result is so-called cash-out refinancing, in
which homeowners treat their homes like savings accounts, drawing out
funds to buy cars, boats, or second homes. By the end of 2006, 86 percent
of all home mortgage refinancings were cash-outs, amounting to $327
billion that year. Unfortunately, this meant that when home prices fell,
there was little equity in the home behind the mortgage and frequently
little reason to continue making payments on the mortgage.
The willingness of homeowners to walk away from their "underwater"
mortgages was increased by the designation of mortgages as "without
recourse" in most states. In essence, non-recourse mortgages mean that
defaulting homeowners are not personally responsible for paying any
difference between the value of the home and the principal amount of the
mortgage obligation, or that the process for enforcing this obligation is
so burdensome and time-consuming that lenders simply do not bother. The
homeowner's opportunity to walk away from a home that is no longer more
valuable than the mortgage it carries exacerbates the effect of the
cash-out refinancing.
Tax laws further amplified the problems of the housing bubble and
diminished levels of home equity, especially the deductibility of interest
on home equity loans. Interest on consumer loans of all kinds–for cars,
credit cards, or other purposes–is not deductible for federal tax
purposes, but interest on home equity loans is deductible no matter how
the funds are used. As a result, homeowners are encouraged to take out
home equity loans to pay off their credit card or auto loans or to make
the purchases that would ordinarily be made with other forms of debt.
Consequently, homeowners are encouraged not only to borrow against their
homes' equity in preference to other forms of borrowing, but also to
extract equity from their homes for personal and even business purposes.
Again, the reduction in home equity has enhanced the likelihood that
defaults and foreclosures will rise precipitously as the economy continues
to contract.
Bank regulatory policies should also shoulder some of the blame for the
financial crisis. Basel I, a 1988 international protocol developed by bank
regulators in most of the world's developed countries, devised a system
for ensuring that banks are adequately capitalized. Bank assets are
assigned to different risk categories, and the amount of capital that a
bank holds for each asset is pegged to the asset's perceived riskiness.
Under Basel I's tiered risk-weighting system, AAA asset-backed securities
are less than half as risky as residential mortgages, which are themselves
half as risky as commercial loans. These rules provided an incentive for
banks to hold mortgages in preference to commercial loans or to convert
their portfolios of whole mortgages into an MBS portfolio rated AAA,
because doing so would substantially reduce their capital requirements.
Though the banks may have been adequately capitalized if the mortgages
were of high quality or if the AAA rating correctly predicted the risk of
default, the gradual decline in underwriting standards meant that the
mortgages in any pool of prime mortgages often had high loan-to-value
ratios, low FICO scores, or other indicators of low quality. In other
words, the Basel bank capital standards, applicable throughout the world's
developed economies, encouraged commercial banks to hold only a small
amount of capital against the risks associated with residential mortgages.
As these risks increased because of the decline in lending standards and
the ballooning of home prices, the Basel capital requirements became
increasingly inadequate for the risks banks were assuming in holding both
mortgages and MBS portfolios.
DUMBASCRAPS WHO MUST HAVE THOUGH THE WARS WERE RIGHT !
YEAs — 77
Bayh (D-IN)
Biden (D-DE)
Breaux (D-LA)
Cantwell (D-WA)
Carnahan (D-MO)
Carper (D-DE)
Cleland (D-GA)
Clinton (D-NY)
Daschle (D-SD)
Dodd (D-CT)
Dorgan (D-ND)
Edwards (D-NC)
Feinstein (D-CA)
Harkin (D-IA) Hollings (D-SC)
Johnson (D-SD)
Kerry (D-MA)
Kohl (D-WI)
Landrieu (D-LA)
Lieberman (D-CT)
Lincoln (D-AR)
Miller (D-GA)
Nelson (D-FL)
Nelson (D-NE)
Reid (D-NV)
Rockefeller (D-WV)
Schumer (D-NY)
Torricelli (D-NJ)
United States National Debt $19,455,171,699,843.07
United States National Debt Per Person $60,017.14
United States National Debt Per Household $155,444.39
Total US Unfunded Liabilities $123,300,656,253,036.55
Social Security Unfunded Liability $15,114,528,662,255.46
Medicare Unfunded Liability $79,037,432,777,823.77
Prescription Drug Unfunded Liability $19,945,995,046,559.88
National Healthcare Unfunded Liability $9,202,699,766,397.46
Total US Unfunded Liabilities Per Person $380,369.44
Total US Unfunded Liabilities Per Household $985,156.86
United States Population 324,160,255
Share this site:USA DEBT CLOCK com
Trump's Christmas Song
Wow, this was amazing. This woman has been harassed by the feds because she found inconsistencies in the election 4 years ago in Texas and created a group called true to vote.
Mad Dogs Comments
=============
========================
==============
ARMSTRONG HISTORY CYCLE
Posted Dec 15, 2016 by Martin Armstrong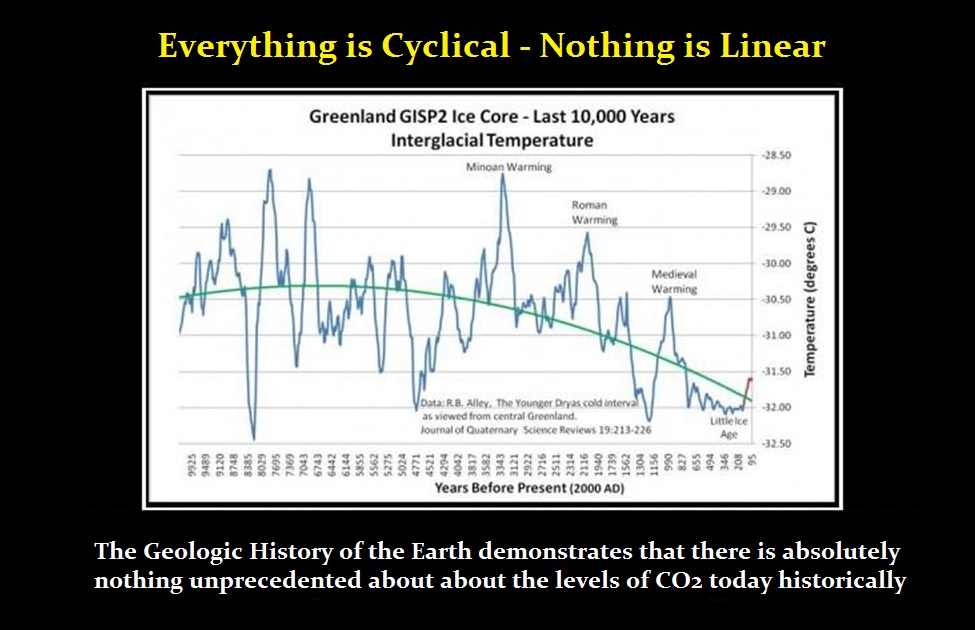 QUESTION: Hi Martin I have a question I hope you can find time to answer. It appears we are heading into dark times with regards to the convergence of all of these cycles. We have government hunting every penny, we have civil war heating up between the left and right, we have revolution against government, international war and decreased solar activity. It seems everything is about to go bang all at once, has there been other periods in history when all of these cycles have converged as we are beginning to witness now on a global scale? Really fascinating stuff, and thank you.
Regards, John.
ANSWER: Oh yes. Here is a chart of the real data for global cyclical trends in the energy output of the sun and CO2 levels. Look at this chart prior to the Minoan warming. There was a very cold period a bit longer than 8,000 years ago — the Ice Age. You see what I would call a slingshot move when the temperatures swung sharply to a record high over about 300 years, according to the ice core samples. Thereafter, we move into a bear market, oscillating trend to retest the low made 4700 years ago. Then there is the steady rise into what we call the Minoan high.
Prior to the Minoan high, the temperature (climate change) was much more volatile. This is what drove the great migrations of humans around the globe if we assume they are correct and life began in Africa. This is the sharp swings that most likely resulted in frozen mammoths, lions, and woolly rhinoceros that were discovered in 1772. The warming up period into the Minoan high was really the birth of civilization/urbanization.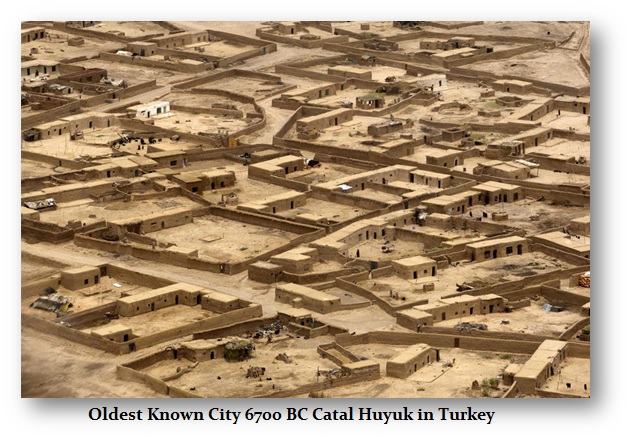 It was about 6700 BC when the earliest city appeared known by the name Catal Huyuk located in Turkey that covered about 30 acres. The buildings were of mud and brick construction, but inside there appeared plastered walls. No doubt, this was the latest modern invention that illustrates two important developments. First, this confirms the birth of an urban trade skill, and secondly, homes were found with paintings on the walls, suggesting the flourishing development of art — one of the last skills to develop within urban life reflecting good economic times.
The Minoan civilization was an Aegean Bronze Age civilization that arose on the island of Crete and other Aegean islands and flourished from approximately 3650 BC to 1400 BC. Clearly, sea travel must have emerged for the people to migrate from Turkey to Crete. Civilization appeared to emerge with this warming period. You then have the catastrophic eruption of Thera (Santorini), which may have been the largest known volcanic eruption within recorded history. That ended the Minoan civilization and gave rise to the plundering society of Mycenaean Greeks who conquered the Minoans and then Troy. But as weather turned colder, Greece, mostly rocky, entered its Dark Age and was unable to produce enough food. They became the Sea Peoples who invaded Northern Africa.
The climate changed again and began to warm, inspiring the rise of the Roman Empire. The warming trend allowed Julius Caesar (100-44 BC) to conquer and civilize Europe. The Roman Empire had three major climate changes known as the Early Subatlantic (900 BC–175 AD), Mid-Subatlantic (175–750 AD), and Late Subatlantic (since 750 AD). Written, archaeological evidence independently records that during the period of the Roman Empire's maximum expansion and final crisis, the climate underwent drastic changes of cooling. During the reign of Trajan (98-117 AD), this was the peak in the territory occupied by the Roman Empire, which coincided with the Roman climatic peak in warming.
The climate change resulted in a sharp trend to a colder climate, which inspired the barbarian invasions (migration) into the Roman Empire where they moved south as the north grew severely colder. Historians imply that there were rapid fluctuations during the late empire after the reign of Trajan. We do have Seneca the Younger describing in 61 AD, a year before Nero ordered him to kill himself, the high level of air pollution in Rome associated with the extensive wood burning for fuel. This confirms there has always been pollution associated with cities.
The Roman Empire is considered to have peaked with the reign of Marcus Aureleus in 180 AD. That is where we draw the line for the beginning of the decline and fall of Rome. That is certainly the peak in the population of Rome itself. When the climate began to turn down, back into a strong cooling period, the fortunes of Rome also turned down. The evidence suggests that the Great Monetary collapse of Rome (around 180–290 AD), coincided with a sharp period of cooling. This seriously affected the northwestern provinces of the empire, especially in Germany and France, which clearly instigated the barbarian invasions of the south. We also have tree-rings dating (dendrochronology) from this period, which indicates there was a severe drought that began about 338 AD and persisted until 377 AD. This contributed to moving the capitol to Constantinople, which construction began about 324 AD when Constantine became the sole ruler.
The climate changed much colder in the north and sent the invasion of the Huns. The migration of the Huns, north of the Black Sea, drove the Goths to flee and press into the Roman Empire. The Roman Emperor Claudius II Gothicus (268-270 AD) was given that title for his defeat of the Goths. Climate change was a major driving force that led to the fall of the Western portion of the Roman Empire with the last Roman Emperor Romulus Augustus (475-476 AD). In the Eastern Roman Empire, climate change resulted in a regional prolonged drought from about 400—540 AD.
The medieval warming was when the Dark Age of Europe began to light, giving birth to the Renaissance period. We begin to see the age of empire building when Spain, Portugal, Britain, and the Dutch all went off to the travel the world. We then begin to fall back into the last mini-Ice Age. We can see that the hard times led to revolution against monarchy in America and France. Paintings of the American Revolution illustrate how cold it really was with Washington crossing the iced Delaware River.
So unfortunately, when I say we have put everything into this model, I really mean what I say. When you put together the historical data, what pops out at you is just amazing. I had to gather coins from around the world to recreate the world monetary system and then place that on the timeline as well. What jumps out at you is the correlation of civilization and the rise and fall of empires with climate change.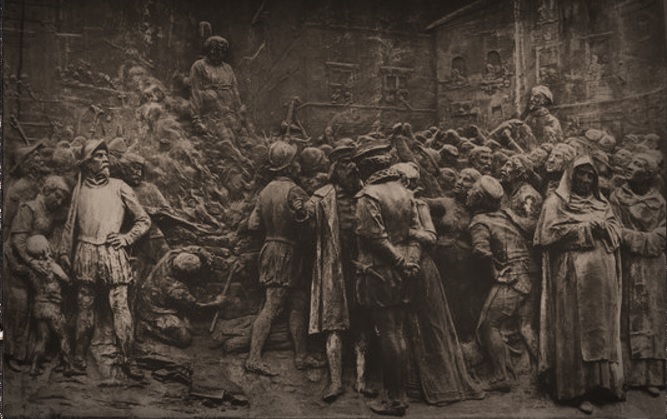 To have these charlatans schlep this bogus theory that man has created this global warming trend prevents real research. It is outrageous that these people have the audacity to want to make disagreeing with them a criminal act. I will not shut up, for these people are blocking a real investigation into how the world functions. I really would prefer death to living in this fake world that these horrible, pretend scientists are trying to create as Karl Marx did. These same types of people burned Giordano Bruno alive at the stake for saying that the Earth revolved around the Sun. If these people could, they would do this to me in a second.
 I welcome Trump's pick for the EPA - THIS IS DESPERATELY NEEDED!
ARMSTRONG HISTORY CYCLE
armstrong article on floating cities: https://www.armstrongeconomics.com/markets-by-sector/technology/floating-cities-can-they-escape-taxes-crime/
On cycles:
https://www.armstrongeconomics.com/armstrongeconomics101/understanding-cycles/armstrong-on-why-cycles-exist/
STATE OF THE UNION VIDEO – DONALD TRUMP 1/31/18